Fort Worth, Texas – January 22, 2019:  Conner Industries Inc. was pleased to help the U.S. Marine Corps Reserve by building and donating custom wooden crates to store donations for their annual Toys for Tots toy drive in the Fort Worth area. The crates were built in Conner's Haslet, Texas manufacturing facility and delivered to the local Toys for Tots coordinator, SSgt Jason Smith, on January 15, 2019. This latest charitable contribution is just one of several in the last year, thanks to the relatively new Conner Cares initiative adopted by the company.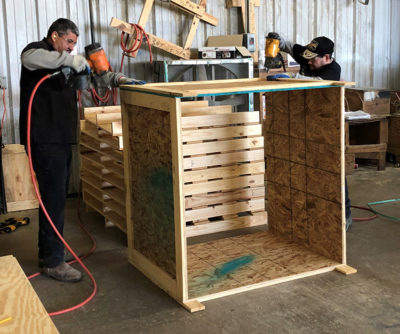 "Toys for Tots is a worthwhile cause that brightens the holidays for children throughout America," says David Dixon, CEO of Conner Industries. "This is one more example of how Conner and our dedicated employees work to serve our local communities."
The mission of the U. S. Marine Corps Reserve Toys for Tots Program is to collect new, unwrapped toys during October, November and December each year, and distribute those toys as Christmas gifts to less fortunate children in the community. The donated crates will be used to store donations for the coming year.
"It was a pleasure to design and build these crates for such a good cause," says Edgar Aviles, Production Manager at Conner Industries' Haslet Plant. "We're grateful for the opportunity to help ensure that children in need will get toys that put a smile on their faces."
About Conner Industries Inc.: Conner Industries is a leading provider of industrial wood and packaging solutions. They specialize in supplying cut lumber (softwoods, hardwoods, and panel products) needed for pallets, crates, and skid parts, as well as fully assembled custom pallets, crates, and industrial containers. With educated and knowledgeable sales people, subject matter experts, an experienced design team, and packaging engineers on staff, Conner serves customers nationwide from 11 plant locations in Texas, Oklahoma, Kansas, Nebraska, Tennessee, Virginia, South Carolina, Georgia and Florida. Headquartered in Fort Worth, TX, Conner offers industrial wood and packaging solutions you can count on. Learn more at www.ConnerIndustries.com.
About the U.S. Marine Corps Reserve Toys for Tots Program: Toys for Tots, a 70-year national charitable program run by the U.S. Marine Corps Reserve, provides happiness and hope to less fortunate children during each Christmas holiday season. The toys, books and other gifts collected
and distributed by Marines and volunteers offer these children recognition, confidence and a positive memory for a lifetime. We believe it is such experiences that help disadvantaged children become responsible citizens and caring members of their community. For more information, visit www.toysfortots.org.
###