Wood Products for a Variety of Needs
Conner offers a wide variety of bulk or high-volume industrial-grade lumber products.  From plywood and OSB to banding groove, and cut dimensional lumber to pallet cut stock and stringers, we've got you covered.
High Volume Industrial Wood Products for Business and Manufacturers
Conner produces thousands of different wood products, using both softwoods and hardwoods, including wholesale dimensional lumber, banding groove, panels, dunnage, and pallet lumber.  We even offer ISPM15 or heat-treated lumber options for exporting products outside of the United States.
Our lumber traders are constantly busy on the phone searching for great buys from our partner sawmills to bring you the industrial wood products you need.  We also maintain contracts with North America's largest softwood producers so that you can leverage our buying power to find the best deal.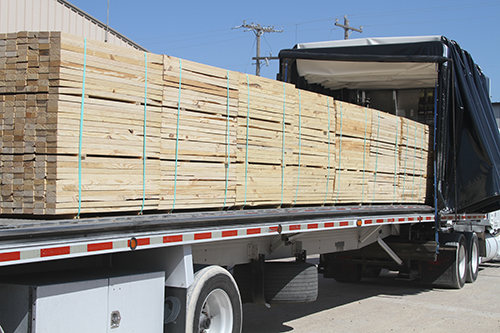 Conner maintains contracts with North America's largest lumber producers, so that you can leverage our buying power for the best deals possible.  That's why so many manufacturers choose us as their high-volume wholesale lumber supplier.
We offer SPF, SYP, hardwoods, and panels, as well as export compliant bulk lumber in the custom dimensions you need, including dimensional lumber cut to precise sizes, banding groove, blocking, dunnage, plywood, OSB, and more.
We've been supplying pallet manufacturers & recyclers with pallet lumber, deck boards, and notched stringers for 40+ years. Pre-cut stock can slash lead times, increase efficiency, and simplify your process.