Our Crates and Pallets Solve Supply Chain Problems
Not only do we look at your handling requirements and supply chain, but we also look into how your product is shipped and the conditions it will go through to get there.  We want to make sure that we provide the best possible solution to meet your product protection and supply chain needs.
Manufacturers Depend on Conner for Their Crates and Pallets
Custom crates and pallets are the foundation of transportation packaging for thousands of manufacturers and businesses.  Wood crates and pallets, boxes, skids, and hybrid containers are used to stack, move, store, and ship manufactured products all over the world.  Crates and pallets are the kinds of wood packaging products that are crucial in getting manufacturers' products to market.
Crates and Pallets Built to Your Specifications
With over 40 years of experience, Conner has produced a very wide range of custom crates and pallets, skids, boxes, and containers.  If you need it for your manufacturing line, we've probably built something similar before.  Whether it's big or small, lightweight or heavy, durable or fragile – we've got your crates and pallets covered.  Conner is also certified to provide an ISPM-15 or Heat Treated stamp on our crates and pallets.
Learn More About Our Crates and Pallets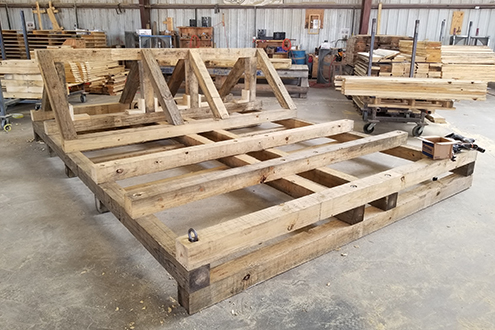 Get custom pallets, standard pallets, and many other packaging solutions based on your product needs.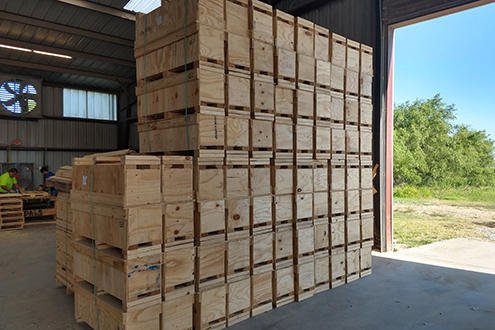 Get custom crates to fit any product need. We can even help with blocking and cushioning.
Crates and pallets solutions that utilize a wide variety of materials, including wood, corrugate, foam, and plastics to protect your products.
Expert Designers – Fast Turnaround – Dependable
Whether you're working to overcome a specific challenge with your current crates and pallets supplier, or you're just looking for more information on specific crates and pallets that will meet your current transportation packaging needs, we're happy to help.
Conner's trained technicians, knowledgeable sales staff, experienced design team, and packaging engineers are committed to developing crates and pallets solutions that are both cost-effective and secure.  We work with manufacturers in a wide variety of industries and have several locations throughout the Uni