Understanding the differences between OSB vs Plywood goes a long way toward helping you to make the right decision on which one to use for your packaging or industrial needs.  Both materials are very similar and can often be used interchangeably, but the way that each is manufactured has a lot to do with the strengths and weaknesses of both types of materials.
Both oriented strand board (OSB) and plywood are panel products that are created by compressing and gluing pieces of wood together but that's pretty much where the manufacturing similarities end.
How is OSB Made?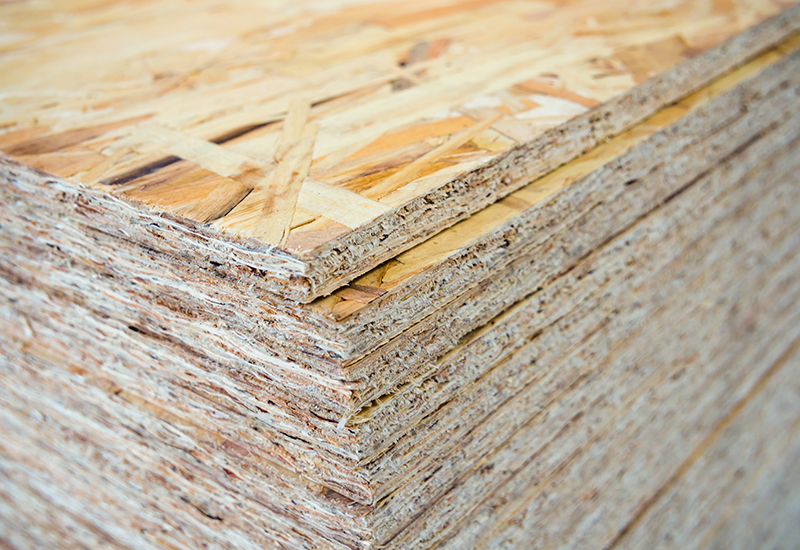 OSB is made from rectangular-shaped wood chips or strands that are arranged in cross-oriented layers.  Heat-cured adhesives are added to the chips to glue all the pieces in place and create a panel.  The wood chips used can be either hardwood or softwood, and are very often manufactured with both.  OSB is manufactured in large, continuous panel sheets that are have a fairly consistent quality with few gaps or voids.
Once finished, this engineered wood panel is a strong product with many different applications.  In the protective packaging industry, OSB is most often used in crate products, but is also sometimes used in pallet decking and as a component part of some engineered packaging applications.
OSB Pros and Cons
According to an article produced by the University of Massachusetts, OSB is a fairly new kid on the block.  The first waferboard, the precursor to OSB, was manufactured in 1963 in Hudson Bay, Saskatchewan from random alignment of wood fiber.  Many people called it chipboard at the time, and it was made from aspen trees found in the region.  It wasn't until 1991 that waferboard, or chipboard, gave way to the structurally superior oriented strand board that we know today.
OSB is the preferred choice of many protective packaging users for a variety of reasons:
OSB can be manufactured into larger panels than plywood.
OSB is generally less expensive than plywood.
OSB is more uniform, with fewer voids, soft spots, or gaps.
OSB is considered by many to be a more environmentally friendly product since it can be made from scrap and smaller trees, rather than old-growth trees.
OSB does not delaminate, as plywood can. Delamination is when plywood layers separate, largely due to humidity or extreme heat.
OSB weighs more than plywood.
OSB doesn't hold screws, nails, and fasteners as firmly as plywood.
OSB swells more than plywood when it comes in contact with moisture, and it generally remains swollen to some degree.
While both OSB and plywood off-gases formaldehyde, OSB off-gasses more of the harmful gas than plywood.
How is Plywood Made?
Plywood is made up of several layers of very thin wood that are cross-laminated and glued together with a hot press.  Each one of these layers is called a ply, thus the name plywood, and each layer is positioned perpendicular to the last.  Sometimes the outside layer, or sheet, of plywood is made from a hardwood veneer, while the inner layers are usually softwoods, such as southern yellow pine (SYP).  Lastly, each layer of veneer is made by peeling it from a log, which is what gives it a more finished and less rough appearance than OSB.
Plywood Pros and Cons
According to an article produced by the University of Massachusetts, the first structural plywood was manufactured by the Portland Manufacturing company in 1905.  Up until the mid 1930's, plywood was bonded with non-waterproof blood and soybean glue.  It wasn't until waterproof synthetic resins were developed during World War II that plywood manufacturers were able to reduce delamination, and by the late 1960's, adhesion technology advanced enough to begin using SYP in plywood.
Plywood weighs less than OSB.
Nails, screws, and fasteners are more likely to remain more firmly in place with plywood than OSB.
Plywood panels swell less than OSB when they come in contact with moisture. Swollen plywood will also usually return to its nominal thickness when it dries out.
Plywood off-gasses less harmful gases than OSB.
Plywood costs more than OSB.
Plywood doesn't come in as large of sheets as OSB.
Plywood can sometimes have voids or gaps between the plys.
Plywood uses wood veneer sheets, making it less environmentally friendly.
Plywood can delaminate, or separate, with humidity or extreme heat.
OSB vs Plywood – Which Is Better?
While there are probably a lot of other considerations for people who are considering OSB vs Plywood for construction projects and residential housing, this discussion mainly centers on the differences when it comes to protective packaging and other industrial uses.  For the most part, manufacturers will make a choice between OSB vs plywood based on the factors that affect them the most.
The decision on which is better, depends entirely on your particular application.
Very often, cost is the primary motivation, but manufacturers must also consider the design of their packaging, including the size of panels needed and the weight of the packaging.  It's also important to assess how the panel product will be used, and if the packaging will be facing consumers.  Lastly, some manufacturers are looking for more environmentally friendly options.  If that's the case, then OSB is the obvious choice.
Ultimately, your packaging designer will offer you recommendations on the OSB vs Plywood front.  They will tell you which works better for your particular application, as well as taking the total cost of your packaging into consideration.