While there are several key factors required to make a well-designed wood pallet or crate, arguably the most important is using the proper fasteners for the job.  From crates to pallets to stand alone shelving, the right choice in fastener will make all the difference in that product's longevity, durability and strength.  Knowing what type of fastener is best for your application, how large they need to be to perform as needed, and how many fasteners are required can be the difference between getting your cargo to its destination safely or watching your wood packaging fail under the stress of use.
Most Common Types of Fasteners
Although there are many different types of fasteners and variations on fasteners available in the marketplace for a wide variety of uses and industries, the most commonly used fasteners in the wood packaging industry are nails, screws, and staples.  The type of fastener used for a particular application can depend on a lot of different factors, but the most effective selection provides the most appropriate combination of strength, longevity, and cost-effectiveness.
How much weight will the pallet or crate carry?

How will the wood packaging be used?

How many times will the pallet or crate be used?

How will the cargo be transported?

How far will the product travel?
Without consideration given to each of these factors, the wrong fastener may be chosen and result in a pallet or crate failure, whether immediate or after long-term use.
Fastener Type 1: Nails
The classic nail has been around for generations and has seen a few different methods of creation to reach the nail form that we see today. Before nails found their way to mass production, they were hand-made by artisans called "Nailers" out of wrought-iron.  Mass producers later began cutting nails from large sheets of iron, allowing iron fibers to run the length of the nail to give it the added strength that was lacking in handmade versions.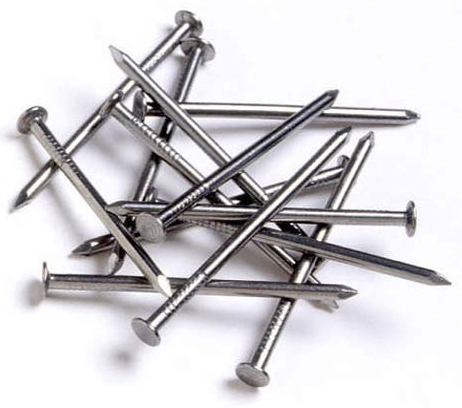 By 1913, this method was replaced, and over 90% of nails were made from steel wire.  The new steel wire nails offered a variety of diameters cast from different gauge wire, and could be adjusted according to the die and the specific diameter needed.  Modern nail production continues in this tradition.
Today, nails are the most widely used fastener in the wood packaging industry, and are usually applied using a pneumatic nail gun – although a hammer works too.
Fastener Type 2: Screws
Just like nails, screws were also once made by hand, and have proven to be a superior choice for joining materials.  Screws also have the added advantage of being easily removed from most products without damaging the material itself, which is often why they are chosen over nails.
You simply unscrew it.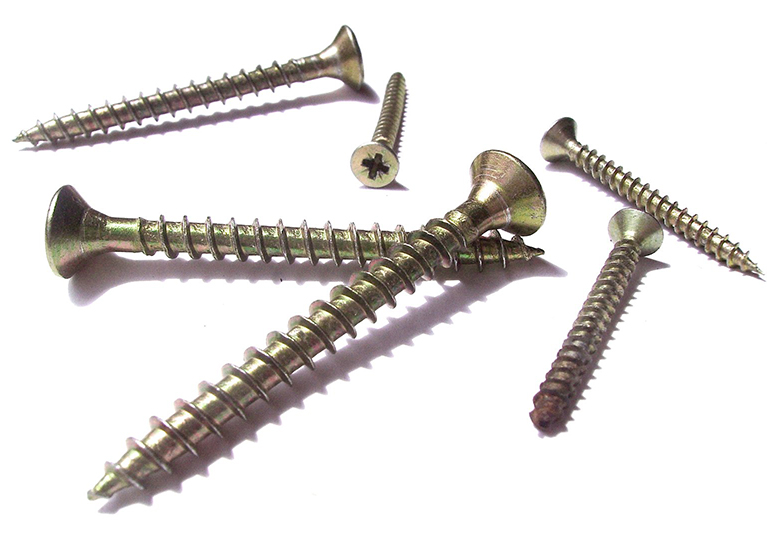 These types of fasteners are applied using a screwdriver or screwdriver attachment fitted to an electric drill.  Due to the threaded nature of this fastener, it can offer a level of grip that is unmatched by the nail.  Generally made from carbon steel wire, the screw is used in a multitude of situations for temporary to long term joining.  Screws are great choice, for example, for attaching a lid to a crate that will need to be removed after being installed.
Fastener Type 3: Staples
As a fastener, staples were originally introduced as a solution to paper fastening.  Early staples were crudely driven into stacks of paper, but crimping the ends of the staple had to be done by hand.
Bostitch, an American company, introduced the first "portable stapling machine" in 1914.  That simple invention paved the way for the modern staple guns used in the industrial packaging industry today.  In the modern wood packaging industry, staples are almost always installed using a pneumatic staple gun or a similar type of air driven tool.